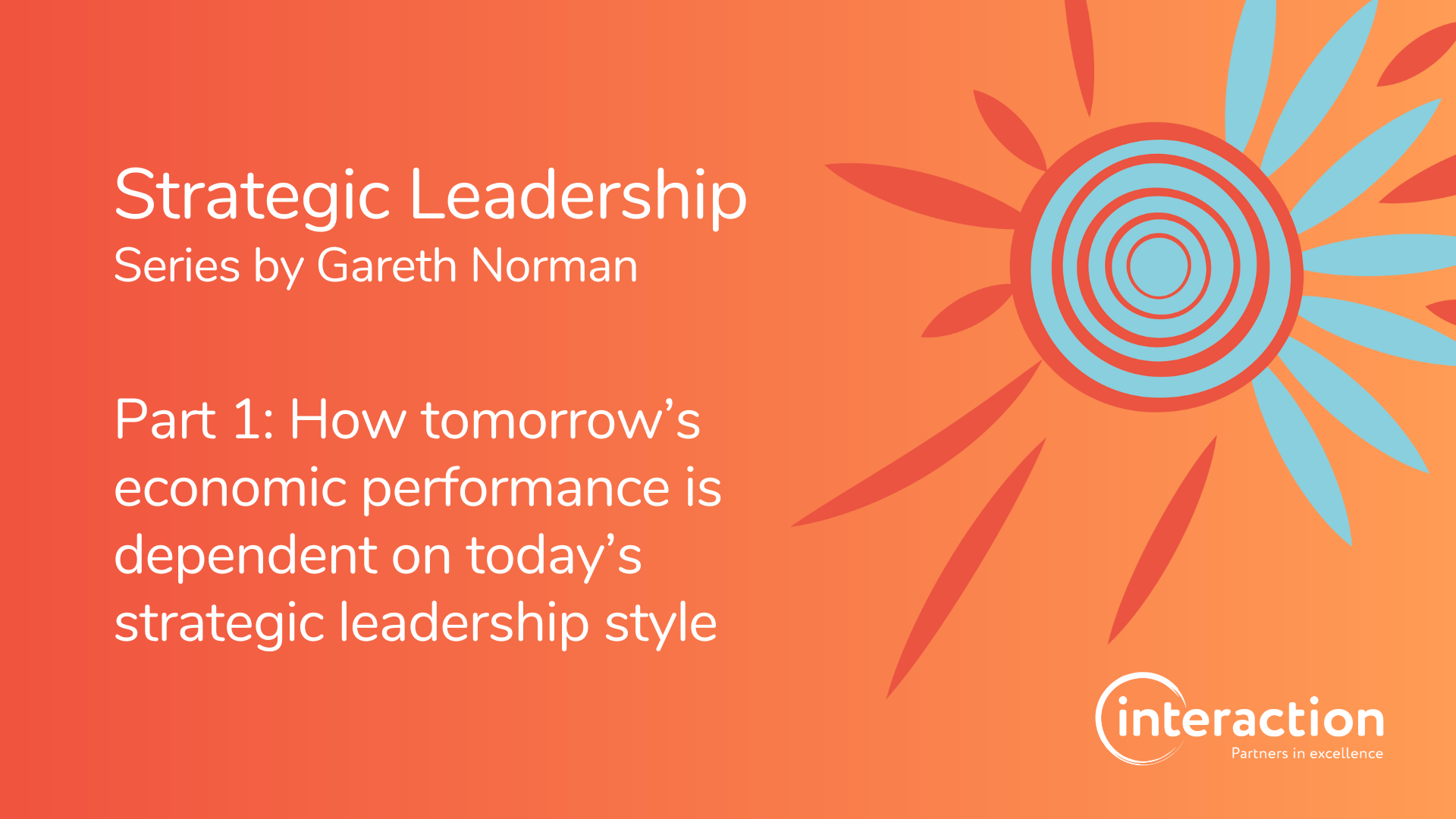 Economic performance and strategic leadership are closely linked concepts. In today's global business environment, organisations are facing both unprecedented challenges and opportunities. To succeed in this environment, it is important for leaders to adopt a strategic approach to managing their organisations. 
What is strategic leadership and how does it drive economic performance?
Strategic leadership means setting a vision for the organisation, developing strategies to achieve that vision, and aligning the organisation's resources and capabilities to execute those strategies effectively. It also involves making decisions that will position the organisation for long-term success and sustainability.
Organisations that innovate and bring new products and services to market are more likely to achieve sustained economic growth. The unprecedented challenges of the last two years definitely illustrated that, with many businesses forced to reinvent their service offering to survive. Strategic leaders play a critical role in fostering innovation by creating a culture of experimentation and calculated risk-taking, and by providing the necessary resources and support to bring new ideas to fruition.
Another key driver of economic performance is operational efficiency. Organisations that operate efficiently produce goods and services at a lower cost, which can translate into higher profit margins and greater competitiveness. Strategic leaders can drive operational efficiency by implementing processes and systems that optimise resource allocation, reduce waste, and improve productivity.
In addition to innovation and operational efficiency, strategic leaders must also be adept at managing risk. Economic performance can be negatively impacted by a wide range of external factors, such as changes in economic conditions, shifts in consumer preferences, or geopolitical instability. Strategic leaders must be able to anticipate these risks and develop strategies to mitigate them, while also positioning the organisation to take advantage of new opportunities that may arise.
Ultimately, economic performance is a function of the strategic choices that organisations make, and the effectiveness of decision making processes and execution of those choices.  Strategic leadership is critical to success in this regard, as it provides the vision, direction, and alignment necessary to drive sustained economic growth and prosperity. By fostering innovation, driving operational efficiency, and managing risk effectively, strategic leaders can position their organisations for long-term success and sustainability in an increasingly competitive and uncertain business environment.
Transactional vs. Transformational Leadership: What's the difference and why do I need to master a blend of both?
Understanding different types of leadership styles, including the environment and circumstances to use a particular style, is beneficial for leaders, their teams and ultimately the economic performance of an organisation. You could spend the next decade reading through the vast amount of literature on leadership theory, and some might love this intellectual stimulation but for those senior leaders wanting to quickly develop and adapt their leadership style to today's world, I would suggest you focus on two styles of leadership – transactional and transformational leadership. 
Transactional leadership

is focused on achieving specific objectives, and rewards followers who meet specific goals. 

Transformational leadership

emphasises personal and professional growth and encourages employees to be creative in developing solutions to challenges.
Leadership effectiveness is not about choosing one style over the other but recognising when and how to apply both styles. For example, transactional leadership can be more effective in situations where teams are working under strict time constraints to deliver a project or where financial resources are limited. In contrast, transformational leadership can be effective when an organisation is working to develop talent, and when innovation is key to survival. So, which one are you?
Effective leaders understand that both styles have their benefits and that blending the two can lead to optimal outcomes. In sales, for instance, leaders may have to be transactional at its core while still motivating and inspiring their team to be innovative in seeking out new customer relationships.
While transactional leadership can help achieve short-term goals, transformational leadership has advantages when it comes to promoting growth, innovation, and creativity within individuals and organisations as a whole. A focus on employee development is critical to cultivating future leaders that the organisation needs. 
A transformational leader serves as a role model for employees and encourages innovation and creativity in the workplace. Understanding the differences between transactional and transformational leadership and recognising how to apply the appropriate style based on the situation can help leaders achieve their strategic outcomes.
How to build and maintain strong strategic relationships?
Adapting your leadership style, to suit the context, is only the first stage of effective leadership. Building and maintaining relationships requires commitment to master and there are five key areas that team leaders, executive management and emerging managers, should focus their attention on:
Shared values

: It's important to have shared values and goals with your team. This can help you build a strong foundation for your relationship and ensure that you're working towards strategic outcomes.

Communication

: Communication is the cornerstone of any successful team. It's important to be open and to make sure you're on the same page. Good communication involves active listening, expressing your thoughts and feelings clearly, and being willing to compromise when necessary.

Trust

: Trust is crucial for any leader to thrive. It takes time and effort to build trust, but it can be easily destroyed. To build trust, be reliable, keep your promises, and be authentic.

Quality time

: Spending time as a team is essential for building and maintaining strong strategic leaders.

Gratitude

: It's important to show authentic gratitude and appreciation for your team. Let them know how much you value them and the things they do. This can help strengthen the team and make it more resilient in the face of challenges.
Hope you have enjoyed the first part of this three-part series on Strategic Leadership and look forward to sharing with you next time my research and opinions on The Impact of Leadership Styles on Strategic Vision.